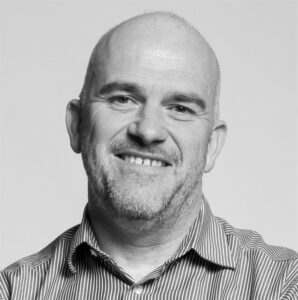 25+ years experience. Indicative day rate £1,875. Geo – UK Wide & Remote.
Fractional & Hourly work also undertaken. Please enquire for details.
A specialist in strategy, planning and execution, I have been a technology, data and digital leader for well over 20 years working across several distinct industries and geographies. Prior to this, I began my career as a software engineer.
I have extensive experience of delivering robust, high performing and customer centric cross-platform solutions working with multi-disciplinary teams using agile methodologies. This has been achieved in a variety of settings with teams ranging from 5 to 120 people in a mix of international, onshore, nearshore, and offshore setups.
Among other things, I have led on technical architecture for 3 different software-as-a-service online marketplace platforms, using a mix of open source and commercial-off-the-shelf software; all solutions included a significant mobile component. As a result, I have experience in multiple technology stacks.
I have defined, designed, and delivered several new product initiatives, many of which have been predicated on the use of data.
I have many years of experience in M&A activities, both pre- and post-acquisition, which has included rapid business integration and migration to common platforms.
I am proficient in both traditional and more agile project management techniques. Experienced in prioritising diverse, value-driven project portfolios for global audiences that ensure investment decisions are in line with corporate strategic goals. I manage the end-to-end delivery of people, process, data and technology changes to ensure benefits are realised.
I have led the teams that delivered the technology & data platforms which supported the stellar growth of 3 PE-owned global brands enabling those businesses to exit successfully. I am therefore well versed in presenting to current and prospective investors.
I am equally comfortable in the Board Room and on the shop floor; I can work alongside Executive Teams to set strategic direction and with Tech Support to resolve day-to-day issues.
Key Achievements:
– Led business transformation initiatives at multiple organisations that have delivered tens of millions of pounds of benefit in both revenue and cost savings through the introduction of new skills, optimised business processes, innovative technology platforms, fit-for-purpose data backbones & appropriately applied artificial intelligence.
– Scaled up a technology team from 15 to 120 people and delivered a re-engineered software & data platform for a global hedge fund that enabled assets under management to increase sevenfold.
– Empowered a global FTSE 100 chemical company to successfully integrate digital into their business to drive growth, operational excellence, product innovation & shareholder value.
– Established and led several multi-site, multi-disciplined teams using industry-leading Agile software development practices that delivered market-leading products & marketplace platforms reliably and at pace.
– Recognised as one of the 100 most innovative Chief Digital Officers globally, 2016 – hottopics.ht.
Key Skills:
Agile; AI/ML; Automation; Benefits Realisation; Big Data; Business Intelligence; Business Process Re-engineering; Change Management; Cloud; CMS; CRM; Customer Experience; Cyber Security; Data Analytics; Data Science; Design Thinking; Digital; Disruption; E-Commerce; Enterprise Architecture; ERP; EventTech; Innovation; IoT; Knowledge Management; Lean; M&A; MarTech; MediaTech; Mobile Commerce; Offshoring; Outsourcing; Portfolio, Programme & Project Management; Product Management; SaaS; Strategy; Supplier Management; Supply Chain; Transformation; User-Centred Design